You are probably thinking about which type of fire pit gives off the most heat. The good sound is wood-burning fire pits.
Wood fires tend to be hotter than gas fires, making them the best choice for a heat source and they also increase the heat around us. Logwoods pit can be making huge fires than gas burners. There are many types of fire pits available. if you are looking for the most heat-producing fire pit.
Are Smokeless Firepits Warm
Yes, a smokeless fire pit is warm if we follow some things. First, we take some good logwoods and we should use those woods which we have kept to dry for 6-7 months use seasonal woods. If you want information about the (How does a smokeless firepit work?) then you should read this article. If you want information about the best woods, then you should read this article (What Is The Best Wood To Use For A Firepit and Use Season Wood) of mine and you will get complete information.
A smokeless outdoor fire pit will give off more heat than a regular fitted pit because the flow of oxygen under and around the fire causes the wood to burn more efficiently. Smokeless fire pits are extremely efficient and can generate up to 100-500 and can grow even more degrees of heat. We can reduce it as much as we want and increase it as per our wish, it depends on how much heat we have to keep.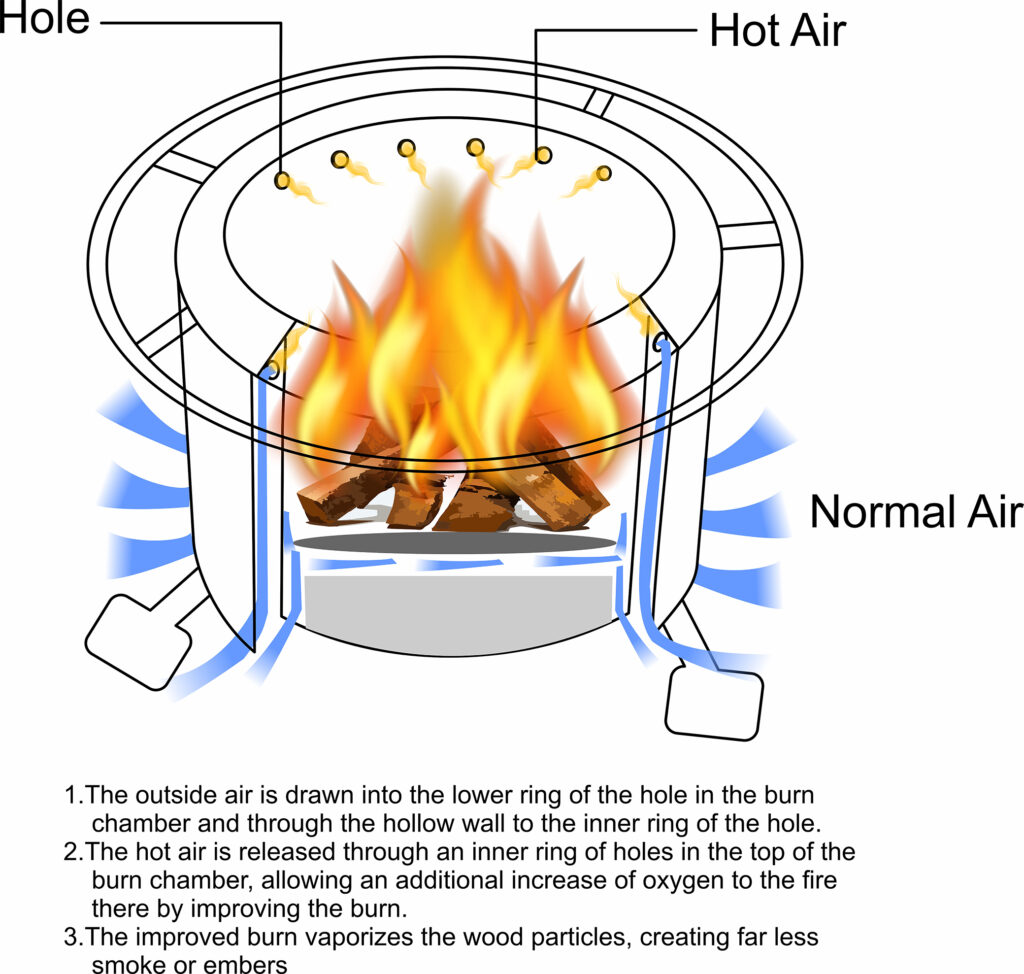 Smokeless firepit types
Propane firepit
Propane firepit is such that we can set the heat according to our surroundings and it's easy to burn and extinguish. We can control its heat as it also has a button so that we can do more or less. if you want propane firepit full information then read this full article (How Does A Propane Firepit Work) after reading this you will know a lot about it. If you want to know its good or bad quality then this article (Pros And Cons Of Propane Firepit And Does Propane Give Most Of The Heat).
The propane fire pit gives off heat due to the gas fire burning inside the gas burner. It gives importance to a heat output to consider. 40,000 Btuh (British Thermal Units Per Hour) is a good average and is the most usual you will see and made suitable heat for indoor and outdoor settings. we can say it makes us feel as warm as we want.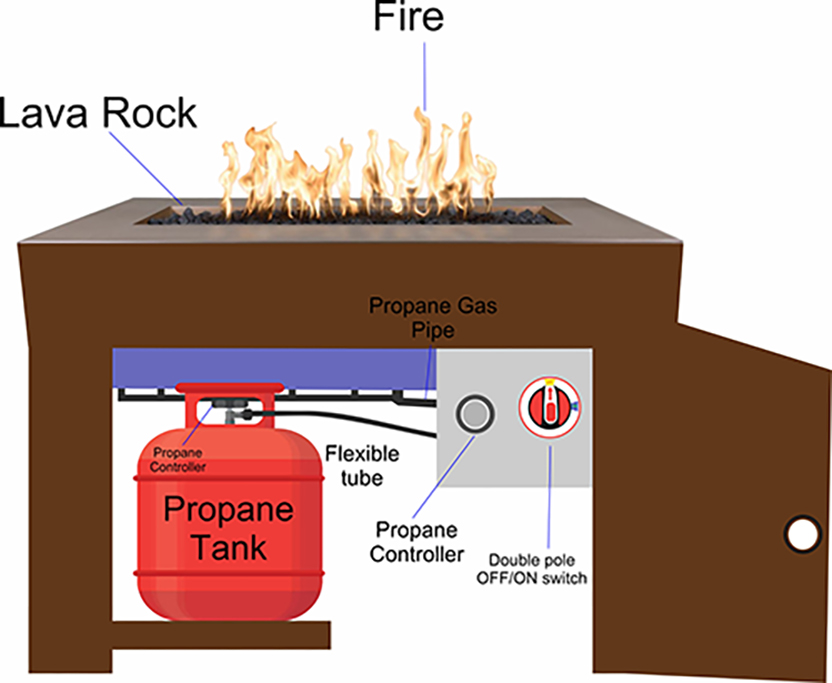 Gas firepit
It is also a gas fire pit which we can light according to our surroundings and we can burn our gas firepit heat as per our wish and spend a comfortable night with our family. It also has switches so that we can make it more or less when we feel that we have to turn it off, it also turns off very comfortably. Gas firepit people like to keep it in their homes because this enhances the beauty of our patio even more. We can keep our children's families safe. If you want full information about gas firepits read this full article (Are Gas Firepits Safer Than Wood And What Are The Pros And Cons Of Gas) after reading this you will know a lot about it. We can put comfortable things to sit near it and decorate our lawn and it does no harm to the people around us. We can say that it also provides us with as much heat as we need.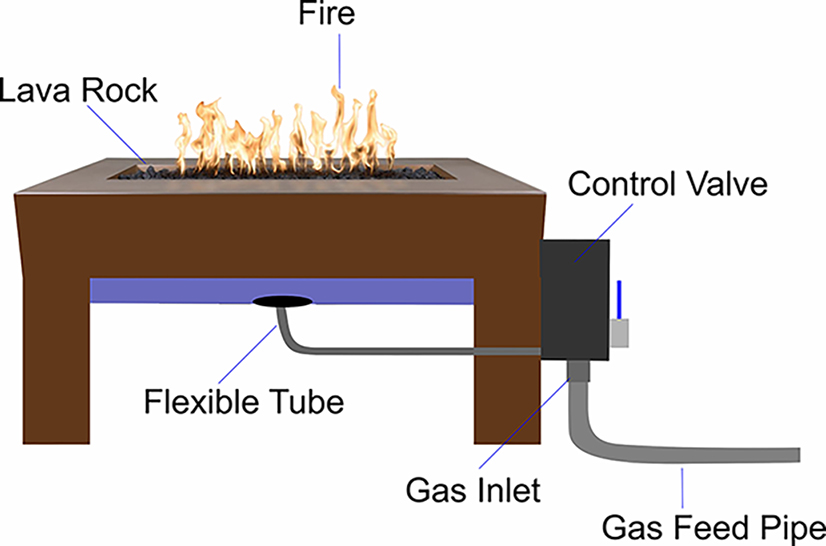 Gel firepit
Gel fuels are usually isopropyl alcohol or methanol-based combined with a thickening agent. There's a different way to burn it. it's so easy to burn and catches fire within seconds. The easy-to-move bowl lets you relax in your living room, your balcony, or anywhere indoor and outdoor and create great memories on our Ventless Real Flame Table Fire Pit without the hassle of smoke. Creating an atmosphere of comfort in the home. Smokeless fire pit gel for a cup of tea and a good book, the perfect companion for a delicious dinner, a glass of wine, to enjoy some fresh air on a beautiful night outside, in the air after a long day, or There are endless possibilities to create beautiful moments and great conversations.
if you want more information about this article (Smokeless fire gel & what is a gel firepit) I have told you as much as possible in this article, you will learn a lot about it.
Are smokeless firepits safer
Yes, smokeless fire pits are safer than a traditional fire pit. It is so safe that we can enjoy a comfortable night with our family and sit with our family without any problem and there will be no insecurities around us too. Still, we should take care of safety and try to take care of our children and family as much as possible. I have written an article in which I wrote about safety, you will enjoy reading it and you will know a lot by reading it (Are Smokeless Firepits Safe And Firepit Unhealthy).
Is having a firepit illegal
Yes. Fire pits are legal while they comply with the laws and regulations established by the county. You'll be fine when you learn the basic rules of starting a firepit.
An entertaining fire is generally defined as a campfire, bonfire, or backyard fire in a fire pit. Many fun fire rules exist to help you treat your neighbors well, but others exist for your own safety and the safety of those around you.
Starting an entertaining fire means you're burning a fair amount of wood, and no unreasonable amount of smoke that could affect your neighbors.
Conclusion
The smoke particles emitted from fire pits cause deadly diseases. If by mistake it inhales a lot of smoke inside our body, there may be chances of diseases like lung diseases, cardiovascular events, and cancer.