There are some distinct advantages of a gas fuel fire pit compared to a wooden fire pit. Gas, whether propane or natural, burns much cleaner than wood. This means it doesn't produce suffocating clouds of smoke, which makes for a more pleasant experience. With an automatic ignition system, lighting a gas fire pit is also easy.
The gas fire pits will turn green with envy while keeping your friends warm and happy at the same time. Turn up the heat and let the party last longer to create a stunning view and a relaxing atmosphere for everyone.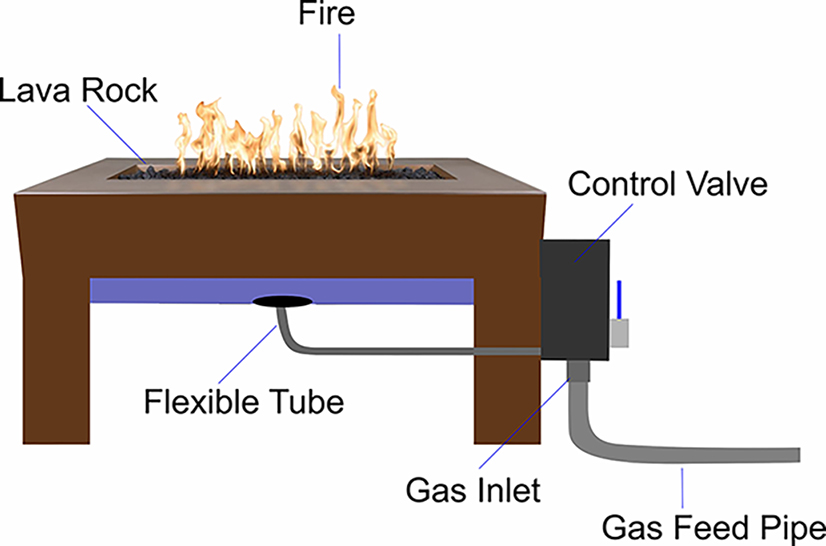 Are gas firepit safer than wood
Gas fire pits are safer than logwood fire pits. They will burn clean without the need to feed wood or any other material to maintain the fire. Unlike a wood fire pit, there will be no flying fire sparks or unexpected flames and embers that disturb a neighbor's property. The heat generated by a gas fuel fire pit flame is simply controlled and made suitable for indoor and outdoor settings. A gas firepit burns inside the gas fuel burner, which can only be turned on and off with an electronic ignition model.
We can easily control the heat that a portable propane fire pit gives. Most brands have an adjustable knob, which allows for a high and low level of flame. As long as you have fuel, you will retain heat.
Which is better gas propane or wood firepit
A ground fire pit can be fueled by wood or propane, each of which has pros and cons. Propane-fueled fire pits give you more control over their fire, are easier to turn on and off, and require no cleanup, but you do need a propane tank on hand to use them.
Wood-using fire pits require manual cleaning, giving you less immediate control over your flame, wood-burning fire pits are also slightly cheaper to install. Wood-burning fire pits They are more economical to build and install than other types of fire pits, partly because you don't need a specialist installation of gas lines, etc. with these. A wooden fire pit can easily make a great weekend DIY for the whole family.
Are gas firepit worth it
Gas-powered fire pits are difficult to install. The gas fuel line to the fire pit that needs to be run requires the use of a professional. This also means that it takes a longer time to set up and but it is recommended that a professional make a fire pit for safety reasons. Gas fire pit installations typically run between medium to high depending on the difficulty of the gas line. The overall cost of a gas fire pit is much higher than it would initially come in the high range.
Easy to Maintain and Move
A gas fire pit does not require much maintenance. Since it burns clean, with no lath or soot, there is nothing to clean. The outside of the fire pit can be undraw down, and a cover can be installed over it when it rains or snows.
The gas fire pit is portable should you want to move with ease. We made sure you pick ones that you can choose from and quickly take with you, or live on the lawn most of the time without fear. So propane fire pits are safer than wood
Are propane firepit safer than wood
Safety of Gas firepit
Gas fire pits are completely safe to use. Like most other products, not all propane fire pits are created equal. To choose the right gas fire pit to buy, make sure you choose a good firm that considers safety a top priority. You'll also want to make sure the fire pit has been tested for safety and is "CSA Approved."
Keep an eye on children and pets. Gas line leaks and gas fires can usually have very serious effects if the gas line is accidentally cut or leaked.
Safety of wooden firepit
We don't need to burn wood that is still wet because they produce the most smoke and green leaves also produce too much smoke for a firepit. Woodfire pits need a top spark screen cover to help protect you, your guests, and the patio or deck surface from sparks and embers in the fire pit, while still enjoying a hot fire.
Keep the firepit away from your children and pets as it is very hot. And keep an eye on your children and pets as far as possible. And also take the information of the weather, if the wind is blowing too much or not, then do not light a fire because embers and flames can damage the surrounding neighborhood.
Can you roast marshmallows on a gas firepit
A gas fire pit is an efficient and safe way to provide warmth during the starry night in the winter months. The heat generated from a gas fire pit blaze is easily controlled and simplified for indoor and outdoor settings. Good decoration has been used around the courtyard. You fry marshmallows and you can also fry steaks, hot dogs, and burgers on the fire as well as set a pan on the fire to fry seafood, vegetables.
Conclusion
It gives importance to a high heat output to consider. 40,000 Btuh (British Thermal Units Per Hour) is a nice average and is the most common you will see. All we have to keep in mind while lighting a wood fire is that we can put as many fires as we want in the fire pit. Then we can use hardwood which keeps burning longer. This will give us a good start to the pit and no smoke will build up in our pit.