We love it when we're all sitting by the firepit together have a great time. And then we feel bad when there's smoke irritating our eyes then it seems we should go somewhere else. So many ways to reduce smoke on it.
Take easy steps to reduce the amount of smoke coming out of your fire pit. Use good logwoods, Have you kept your wood in a dry place, In which the fire is burning, the fire pit is dry.
Use good logwoods
⦁ Oak, Maple, Hickory, Birch, Beech, Ash.
Use well-dried wood as they do not produce smoke. Hardwoods such as oak, maple, walnut, cherry, or birch for less smoke. If you want to avoid smoking then you should stay away from softwoods like pine, cedar, and cedar. Because this wood takes time to dry, and it often burns out prematurely. However, softwoods are often good for burning because they tend to burn hotter and faster.
Use season wood
Seasoned firewood is shredded wood that has been left to dry to remove a large percentage of the moisture. The seasoning process of wood usually takes six months or more.
The reason not to use non-seasonal firewood (aka green wood) is that it will usually produce unwanted amounts of smoke from the moisture inside the wood. While it's tempting to burn freshly fallen wood around the yard for convenience, you'll likely have to deal with the consequences of a smoky yard. In addition, non-seasonal firewood produces less heat than seasoned wood because burning moisture wastes energy.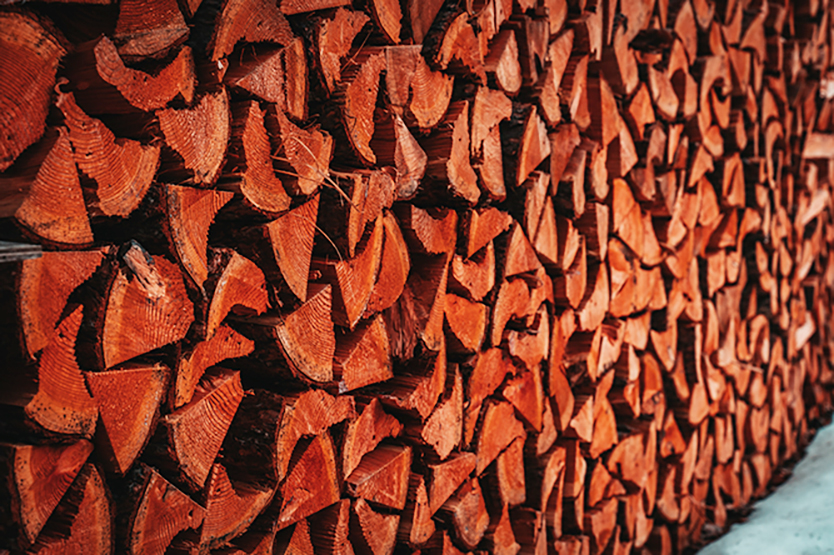 Methods
Selecting wood to use in your fire pit, make certain it has been cut, split, and dried. Two main methods are used for drying freshly cut wood.
⦁ Seasoning – The wood is left to air dry outside for six months and a few years, and is only seasoned once an acceptable moisture level is reached.
⦁ Kiln drying – wood is heated in an oven for a few hours to a few days until it reaches an acceptable moisture level.
Both seasoned and kiln-dried lumber should have below moisture levels. It is also important that any lumber you buy is kept dry until use. If you wish, you can purchase a moisture meter to ensure that your wood is suitably dry.
Avoid Burning Debris
We don't need to fire logwoods that are still wet because they make the most of smoke and greeny leaves also produce a lot of smoke for a firepit. We also have to stay away from things that are painted and laminated, creosote soaked, pressure, chemicals, posters, plastics, clothes, and tires, this stuff produces a lot of black smoke. This can harm the environment and our health too.
Burning materials such as leaves, fresh grass clippings, weeds, and dustbins should be avoided to reduce smoke. Stick with only dry tinder, kindling, and burning wood to keep the fumes to a minimum. You can invest in an ax for burning with your existing firewood. This will help reduce the need to potentially burn the smoke-producing material.
How to identify wood is dry or wet
Even if you are using wood in an outdoor fire pit, you should look for wood that is also suitable for indoor use, as this wood will not smoke, or will smoke very little. When comparing green wood to dry wood, there are a few key characteristics that differ between them.
Light color and weight for its size, loose bark, Cracks, lack of aroma, When two pieces stick together, the sound of 'hollow cracking' is heard.
Natural gas
Propane fire pits also come in many forms. The propane fire pit is smokeless and always remember kids did not come near the pit. Good decoration can be used around it. We can control the fire with smokeless fire pits. We can keep it on high flame and low flame as per our choice. You can enjoy the warmth of the smokeless fire pit on a starry night.
A mainly common type of fire pit is one that is filled with gel. This fuel is simple as lighting a match indoors or out. There are many gel fuel appliances that you can use both indoors and outdoors. The easy setup and closeouts are even better as the fire is ready in seconds. The main pros of a gel fuel fire pit are that the fire itself does not produce the smell of a gel fire and is easy to clean. Use alarm when using gel fuel outside, do not start a fire during a powerful wind or during rain or snow.
Remember Safety Kit
⦁ Smokeless fire pits need a top spark screen cover to help protect you, your guests, and the patio or deck surface from sparks and embers in the fire pit, while still enjoying a hot fire. can.
⦁ Stainless steel metal, electric welded, non-toxic forks ensure no rust and safe roasting. Making the Perfect Marshmallow Roasting.
⦁ Smokeless Fire Pit Cover Fabric Back With waterproof PVC coating, the firepit cover is more permanent and scratch-resistant, which effectively prevents water, dust, and ice from getting on your grill.
⦁ Smokeless Fireplace Accessories Set, Fireplace Decoration Toolset includes a sturdy stand with heavy-duty base, brush broom, antique shovel, tongue, fire pit poker, and grabber, one for each.
Disease problem
Family and friends sitting with us. Firepit creates some smoke problems like burning eyes irritation and Somehow the smoke gets into our body. An asthma problem then no need to sit too close to the pit. Wood smoke combines many particles and a mix of gases. Arsenic on cancer of the bladder, skin, lung, liver, and kidney. Almost all women are most at risk of lung cancer because of indoor air pollution.
Smoke particles contain deadly diseases. Mistakenly it inhales too much smoke inside our body, then there can be a possibility of developing diseases like lung diseases.
Conclusion
We can say that the pit is best just to be a warm and comfortable source of light that allows you to really spend your evenings and nights together and forget all your worries. A large group of chemical compounds and can impair one's ability to breathe. Breathing these chemicals poses serious health risks, especially over a long period of time, and are especially serious for people with pre-existing conditions such as asthma.